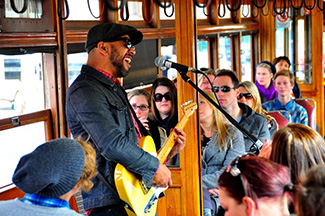 The Blues Tram
The Blues Tram was developed by, and is run by, the Bendigo Blues and Roots Festival, with ticket sales processed through the Bendigo Visitor Centre. Visitors enjoy a relaxed drink while rolling through the streets of Bendigo listening to some of the region's finest performers.
Initially developed to be a once-off event, the Blues Tram has grown from strength-to-strength and now operates once a month. Check out this link for up-coming sessions.
---
Yarn Bomb Tram
Covered in hand-made crochet, both inside and out, Tram No. 302 is transformed each Winter by a group of needling ninja's with an explosion of colours and shapes that has to be seen to be believed.
Like a well-tailored suit, the moving masterpiece is a testament to the craftsmanship that has been poured into its design and creation.
Click here to find out all about it.
---
Sam the Story Tram
Sam the Story Tram was developed in 2016 for inclusion in the Bendigo Writers Festival.
With conductor-storyteller Narelle Stone, it's all aboard, destination books, stories and imagination, a new and unique way for Bendigo to celebrate words with our youngest friends.
Supported by the City of Greater Bendigo's community grant program, the Community Foundation for Central Victoria, and the Communities for Children Early Years Literacy and Language Development learning group.
---
Santa Tram
Santa Tram is a tradition which dates back to the 1960s. Boarding a decorated bright red tram with Santa's helpers, guests enjoy singing Christmas carols as they are taken to a 'secret location' to meet Santa. On arrival, the echoes of children bellowing "Santa, where are you?" is met with a deep "Ho, Ho, Ho, Merry Christmas!"
With shrieks of excitement (and sometimes tears) each child is introduced to Santa, has their photo taken with him, and is given a gift. Toyworld Bendigo kindly supply all of the gifts, VCAL students from Bendigo Senior Secondary donate their time to wrap all of the gifts and the local Yarn Bombing group do a fantastic job decorating the Santa Tram.
---
Lantern Festival
Each year the Bendigo Joss House Temple celebrates Chinese New Year with a traditional Lantern Festival. Children from the Dr Harry Little Pre School do a phenomenal job decorating all of the lanterns for the festival. The Bendigo Chinese Association Lion Team and Plum Blossom Dancers provide the spectacular entertainment for the evening, with fantastic traditional performances.
---
Dja Dja Wurrung Tram
Launched in July 2017, The Dja Dja Wurrung Tram takes visitors on a journey of discovery into the unique and fascinating traditions of the Dja Dja Wurrung to hear a story more than 40,000 years in the making. This tram has been adorned inside and out with striking Aboriginal artworks created by emerging Dja Dja Wurrung artist, Natasha Carter. A special commentary has been written and narrated by the Dja Dja Wurrung Clans Aboriginal staff and members and was produced by prominent musician and composer David Bridie.
The Dja Dja Wurrung Tram has been made possible thanks to a number of sponsors who have generously contributed to the project, these include: Australian Government's Stronger Communities Fund, Transport for Victoria, City of Greater Bendigo, Fosterville Gold Mine, Bendigo Tourism Board, Dja Dja Wurrung Clans Aboriginal Corporation and Bendigo Heritage Attractions
---
The Royal Pop-up Tram
Operating from February to November of 2019, the Royal Pop-up Tram was developed in partnership with the City of Greater Bendigo to support the Bendigo Art Gallery's Tudors to Windsors Exhibition.
The tram was transformed into a cafe and stationed within Rosalind Park, giving visitors the opportunity to relax in one of the booths while sipping on fresh coffee from Get Naked Espresso and bopping along to British tunes.
Painted as a giant Union Jack, the tram became the ultimate selfie spot.
Gin Masterclasses were also held on board the tram and successfully run by The Dispensary.